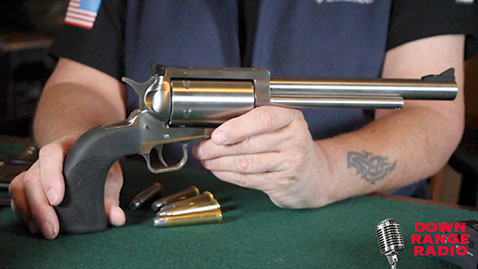 This week Michael gets jiggy with a big bore 45-70 BFR. He also has some thoughts on being armed in a non-permissive environment and why you should be willing to look at your gun as you reholster…carefully!
Podcast: Play in new window | Download (Duration: 55:15 — 25.3MB) | Embed

Episode #516.
Scroll down for reference links on topics discussed in this episode.

Host: Michael Bane
Producer: Marshal Halloway
Find this episode of Down Range Radio on: iTunes | Stitcher

More information and reference links:
GREG ELLIFRITZ/ACTIVE RESPONSE TRAINING
"Deep Concealment Options for the 'Non-Permisive' Environment"/Greg Ellifritz
Fred Perrin La Griffe Knives:
Fred Perrin Knives Neck Knife La Griffe FPG with Kydex Sheath Paracord
Fred Perrin La Griffe Carbone Fixed Blade Knife,1.75in,Drop Point Blade,Skeletonized Handle
Fred Perrin La Griffe G-10 Knife
Stone River Gear Ceramic Neck Knife
45-70 Levergun [Interesting Site!]
"Is the 45-70 Still relevant?"/AMERICAN RIFLEMAN
Ruger Precision Rifle in 5.56:
http://www.ruger.com/products/precisionRifle/specSheets/18019.html
https://www.americanrifleman.org/articles/2017/3/27/ruger-precision-rifle-now-in-556-nato223-rem/
NRA Shooting…this is how it plays in the MSM
The Music of the Avon Comedy Four


WANT MORE SHOOTING GALLERY? WANT MORE THE BEST DEFENSE? WANT OUTDOOR CHANNEL WITH YOU WHEREVER YOU GO?
Like magic, you can have all that and more. Go directly to MyOutdoorTV !
Related