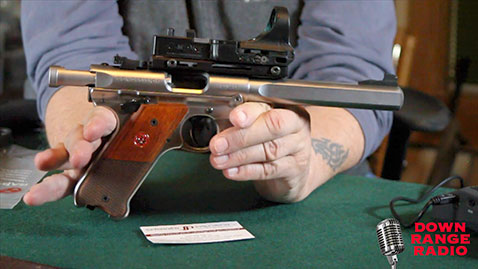 This week Michael gets back into training for the upcoming trip to Africa plus talks about some of the newest guns from traditionally "cowboy" manufacturers.
Podcast: Play in new window | Download (Duration: 52:33 — 24.1MB) | Embed

Episode #515.
Scroll down for reference links on topics discussed in this episode.

Host: Michael Bane
Producer: Marshal Halloway
Find this episode of Down Range Radio on: iTunes | Stitcher

More information and reference links:
NOTE: Ruger now makes a Target version with a wood stock
Cimarron Firearms "Bad Boy" .44 Magnum
Rebranding the Gun Culture/Dan Gifford, CHRONICLES
The Music of the Holy Modal Rounders
The Music of the United States Army Old Guard Fife and Drum Corp


WANT MORE SHOOTING GALLERY? WANT MORE THE BEST DEFENSE? WANT OUTDOOR CHANNEL WITH YOU WHEREVER YOU GO?
Like magic, you can have all that and more, and thanks to SHOOTING GALLERY and Michael Bane, you can get your first month for only $0.99! That's less than any toll road in New Jersey! Go directly to MyOutdoorTV , hit "Sign Up Now," fill out the first page and click "Continue." Fill out the Billing page, and where you see the box marked PROMO CODE. Enter the top, super-secret-don't even tell your worthless bum of a brother-in-law code: SGO
You'll be signed up and get your first month for $0.99! Then, for a measly $9.99 a month from then on, you get all the OUTDOOR CHANNEL you can handle. Starting in October, you also get SHOOTING GALLERY ONLINE (SGO, get it?), an original online series that you'll only be able to watch online. Think of the DOWN RANGE Radio podcast turned into a broadcast show. We'll be there the first-est with the most-est! Guaranteed! Insider coverage from SHOT and the NRA Show? Done deal. Coverage of the newest technologies by people not living in their Mom's basement? No problemo. SGO will rock.